The Puffy mattress comes in two kinds: the Puffy, and the Puffy Lux. Both are single firmness, memory foam mattresses built with the same structure, but the Puffy Lux has an added layer of memory foam. Both products are designed for you to have a good night sleep, and both provide superior comfort.
Size and pricing
Both the Puffy and the Puffy Lux come in six different sizes: twin, twin XL, full, queen, king, and cal king. Puffy mattresses are made to order and only compressed into its packing box at the last minute. This is to ensure it reaches the customer in the best possible condition.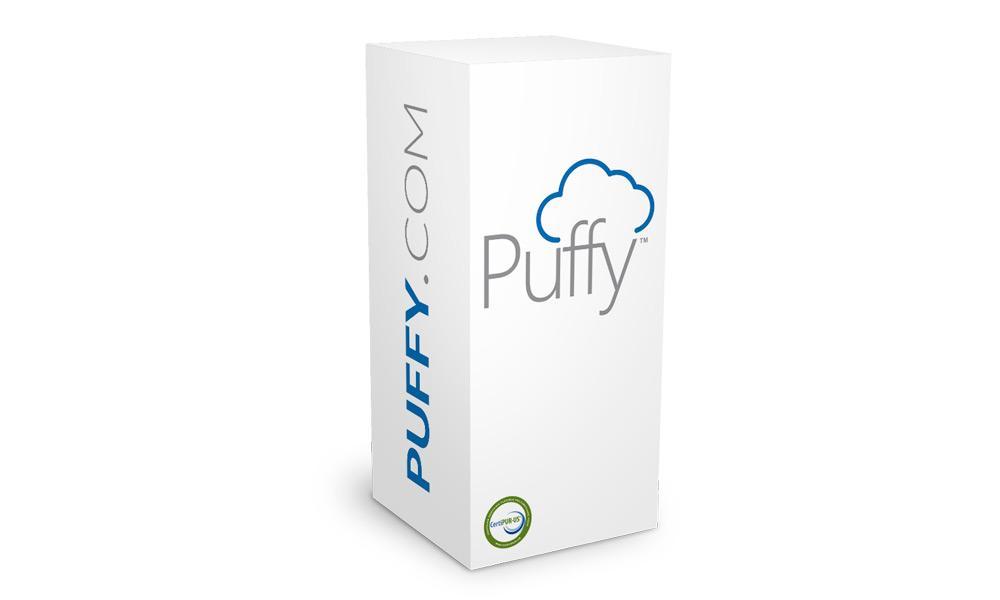 Puffy have cut out the middleman and only sell directly to customers. This allows them to keep their prices down, which start at $795 for a twin, $1,150 for a queen, and $1,350 for a cal king. Overall, these are quite reasonable prices for a quality memory foam mattress.
Feeling
The Puffy mattress is a single firmness mattress with either two or three layers of memory foam. Both The Puffy and The Puffy Lux have a polyfoam core, and stand 10" and 12" tall, respectively. The cover of the mattress is soft and hand sewn for greater quality. While the materials seem at first to be quite durable, the Puffy uses foam that is less dense than some other brands. This means it will be fine for light sleepers, but last all that long for those that weigh over 230lbs.
 The mattress has excellent motion isolation, which means it is particularly suitable for couples, and would also be a good model for light sleepers. As an added benefit, because of its materials, it is also silent when bearing weight. This makes it even more suitable for light sleepers. The Puffy mattress also has fair temperature regulation, much like other constructed memory foam mattresses.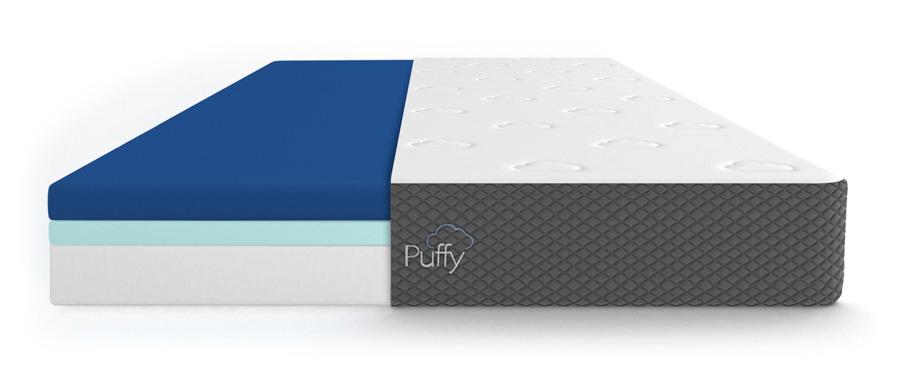 While the mattress does have reasonable edge support, it might not be as good for heavier users. This puts it on an average with other mattresses of a similar design, and there are models on the market with superior edge support. The Puffy mattress is efficient at conforming to the sleeper's body, meaning it will be a good choice for those that experience joint pain because it will help to relieve pressure points while sleeping. 
Sinkage test
 The Puffy mattress has minimal sinkage, as the layers of memory foam work together to provide contour and allow the sleeper to sink into the mattress but without the feeling of disappearing into it. The multiple layers also provide superior support and a level of bounce. This will be beneficial for couples as the lighter one won't find themselves rolling towards the heavier one.
Lifetime
 The mattress itself, if well cared for, will last a long time. The memory foam layers individually would possibly not provide a high level of durability, but combined they should last for a long time. The polyfoam core and foam base layer add support to the overall mattress structure and will prevent it from ballooning out too quickly. The mattress is constructed in the USA using high quality materials, and most importantly, comes with a lifetime guarantee from Puffy.
 Overall rating
 Motion transfer: 9/10
Pricing: 8/10
Comfort: 9/10
Overall experience: 9/10
You can view their website here!